Watch The Hateful Eight
---
"No one comes up here without a damn good reason."
The Hateful Eight is a Western-style mystery set in the late 1800's after the American Civil War. In it, a stagecoach driver, O.B. Jackson, two bounty hunters, Marquis Warren and John Ruth, and Ruth's prisoner, Daisy Domergue, meet up with Chris Mannix, who claims to be the incoming sheriff of the town of Red Rock. The five of them stop at a stagecoach lodge to escape a blizzard and meet Bob, who says he is currently running the lodge while the owner is out of town, as well as two others - quiet cowboy Joe Gage and former Confederate General Sanford Smithers. Each of the eight is suspicious of the others for reasons of their own, and things come to a head after a mysterious someone poisons the coffee. The climax plays out amid flashback scenes that reveal each character's true identity and their purpose in traveling to Red Rock.
|
2016
|
2 hr 56 min
|

/

10
Cast

Studio

Director

Quentin Tarantino

Language

English
More Like The Hateful Eight
The Hateful Eight News
Weekend Box Office: Star Wars Wins Again, Revenant Roars
January 10, 2016 @ 12:34 pm PST
|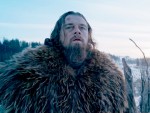 For a while at the beginning of the weekend, it looked as if The Force Awakens might give up the top spot this week. It was a tough battle, but in the end, The Force was triumphant again.
Read More

New Movies January 1: Hateful Eight Goes It Alone
December 30, 2015 @ 2:12 pm PST
|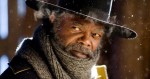 Last weekend, four new wide releases were unable to put even a tiny dent in the dominance of Star Wars at the box office. This weekend, there's only one movie that's even going to try.
Read More

New Movies January 8: The Forest and The Revenant
January 06, 2016 @ 11:44 am PST
|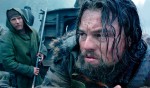 For the past several weeks, The Force Awakens has leveled all challengers at the box office. This week, two new movies step up and try to dethrone the monster hit. Does either of them have a chance?
Read More


Watch The Hateful Eight Trailer


Watch The Hateful Eight Online - Watch online anytime anywhere: Stream, Download, Buy, Rent
The Hateful Eight is currently available to watch and stream, download, buy, rent on demand at Netflix, Amazon, Vudu, Google Play, FandangoNow, YouTube VOD, iTunes online.