Watch Idiocracy
---
"In the future, intelligence is extinct."
Do you ever feel that world is getting lazier...or more unintelligent? As technology advances and begins to do more projects and tasks for us, humans may actually no longer have to think much. Idiocracy gives us a peak of what earth could look like if the world gradually lost their intelligence and motivation to get things done. It all begins when agent Joe Bauers is selected for a top secret government program. He has been selected as an "Average American," by the pentagon for a hibernation project that is supposed to last about one year. Another female, Rita, is also chosen for the project who is a prostitute. She only accepts to do the project because the government agrees to drop charges against her. Joe and Rita are injected with the special sleeping aid and soon forgotten about. The boxes they are both locked inside are pushed by the wayside and Joe ends up sleeping for the next 500 years.
Hundreds of years pass, and individuals become "dumber and dumber." When Joe finally wakes up 500 years later, he finds an incredibly different world-and he is the smartest person alive. Joe's first thoughts are to find headquarters and to find out what has went wrong. Although, once he sees a newspaper that reads 500 years later into the future, he realizes he is all alone-until he remembers Rita. Joe seeks out a search to find Rita and is later happily reunited when he finds her back to her old ways. Although Rita is not quite that intelligent herself-she still fears for the boss she once works for-until Joe reminds her that he is dead-along with everyone else they knew...500 years ago.
Joe comes across several new characters throughout the movie, trying to befriend others and hope they have a way for him to get home. Since it is later in the future, Joe figures that perhaps time travel has been invented, so he and Rita set out to find a time machine that a friend tells them about. Throughout the adventure, Joe is in jail, but easily escapes, and even becomes the president's right-hand man. He must learn how to solve current problems that the Earth has such as the dust bowl, drought and helping others learn simple every-day tasks. 500 years later, the people of America are incredibly unintelligent and it is up to Joe to try to save Earth and all of its poor idiots.
|
2006
|
1 hr 24 min
|

/

10
Cast

Studio

Director

Mike Judge

Language

English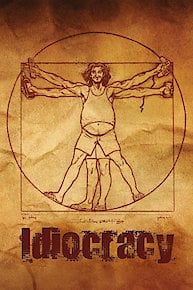 Idiocracy News
'Beavis and Butthead' Are Back, and They Watch 'Jersey Shore'! Watch New Clips
July 22, 2011 @ 9:15 am PST
|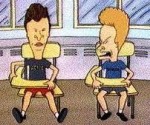 They're back, and they could sure use some TP for their bunghole. Heh. Heh. In an era where the willfully brainless "Jersey Shore" is MTV's most highly rated series by a wide margin, Mike Judge has wisely decided to bring back "Beavis and Butthead," and as we can see from the brand new clips he shared with audiences at Comic-Con yesterday, even Cornholio is smarter than Snooki. Watch new clips "Beavis and Butthead" here.
Read More


Watch Idiocracy Trailer

Idiocracy Trailer with HD video
|
1:40

Watch Idiocracy Online - Watch online anytime anywhere: Stream, Buy, Rent
Idiocracy is currently available to watch and stream, buy, rent on demand at Amazon, Vudu, Google Play, FandangoNow, iTunes, YouTube VOD online.