Watch Hannah Montana The Movie
---
"She has the best of both worlds...now she has to choose just one."
Hannah Montana stars as herself in this movie. It is a great movie that shows an in depth picture of her real life. Miley is a girl from a small town, who doubles as a famous teen celebrity, Hannah Montana. Having lots of fame has caused her to lose focus on the things that used to be so important to her. It is going to be her grandmother's birthday soon and her dad wants her to come with him and her brother Jackson back to their hometown for a celebration. She hasn't been back to her hometown in a long time, and really doesn't want to go. Not to mention that around the same time, she is supposed to be in New York doing some promoting as Hannah.
Lily her best friend is having her sweet 16 birthday party and Miley has promised to be there. She stops to get Lily a present and ends up getting into a fight with another celebrity. When leaving the store a media man who writes scandalous articles on celebrities follows her vehicle. Now she is in a dilemma, she got in the limo as Hannah and can not get out of the limo as Miley, or her identity will be revealed. She shows up to Lily's party as Hannah and of course the kids flock to her. This ruins Lily's spirits cause the attention is no longer on her, at her own party.
Miley's dad tricks her into going back to their hometown and she is furious when she finds out. She feels that she has nothing in common with the folks that live there, even though she once did. She meets an old friend and finds herself falling for him.
The town is about to be bought by some rich guy who wants to make the little town into a tourist resort and modernize it. The town people like it just the way it is and have to raise lots of money to save it. Miley mentions that she knows Hannah Montana and the townspeople see it as their chance to save the town. Lily comes to Miley's rescue by coming to town, pretending to be Hannah. Miley has a hard time being two people and eventually lets her town know the truth.
Miley learns that the town people accept her just the way she is and loves the idea of having their own Hannah Montana. She saves the town and herself.
|
2009
|
1 hr 32 min
|

/

10
Cast

Studio

Director

Sam W. Orender, Peter Chelsom

Language

English
Hannah Montana The Movie News
Miley Cyrus Makes an Impression on the Set of 'Two and a Half Men'
October 12, 2012 @ 2:59 pm PST
|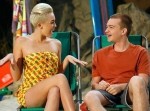 "Two and a Half Men" star Angus T. Jones is reportedly getting a little hot and bothered over his cute new guest star.
Read More

Rumor: Miley Cyrus May Have Wrist-Cutting Problem
April 27, 2012 @ 11:13 am PST
|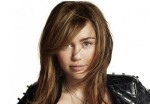 Like a celebrity or not, it's never the kind of gossip anyone should relish hearing. Hollywood Life claims that Miley Cyrus' recent tweets could point to a depressed fall. The former "Hannah Montana" star has been waxing philosophical about "scars" lately, and displaying some curious-looking marks on her wrists....
Read More

Would-Be Miley Cyrus Intruder Charged In Los Angeles
September 10, 2012 @ 2:51 pm PST
|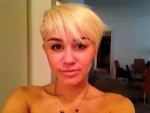 The man who tried to invade Miley Cyrus' Los Angeles-area home Saturday now faces three criminal charges from L.A. prosecutors. Juan Luis Rivera could do time for two counts of trespassing and one of resisting arrest. Cyrus was unharmed during the attempted break-in.
Read More

Miley Cyrus: The 'Engagement' Ring Isn't What It Looks Like
March 26, 2012 @ 12:56 pm PST
|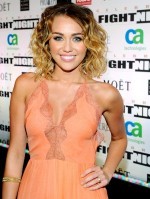 Some advice, all the famous single ladies: put a shiny ring on it - any shiny ring - and you're giving the paparazzi an inch. Give them an inch, and they'll take a yard. Miley Cyrus is rolling her eyes and denouncing some very domestic rumors this week. The one-time "Hannah Montana" star tweeted a picture Thursday flaunting her latest manicure - and what E! News called a "diamond stunner" on her finger.
Read More


Watch Hannah Montana The Movie Trailer

Hannah Montana: The Movie|0:02
Hannah Montana The Movie|2:13
Hannah Montana: The Movie Official Trailer (HD)|2:24

Watch Hannah Montana The Movie Online - Watch online anytime anywhere: Stream, Download, Buy, Rent
Hannah Montana The Movie is currently available to watch and stream, download, buy, rent on demand at Hulu, Amazon, Vudu, Google Play, iTunes, YouTube VOD online.