Watch Hands of Stone
---
"No más. No surrender."
The life of Roberto Duran is on display as a dedicated fighter from Panama, who was only 16 years old when he had his first fight and began his professional career.Finally, retiring at, by industry standards, an old age of 50. He is well known for his defeat of the famous and loved, Sugar Ray Lenoard, to walk away with the WBC welterweight title. The rematch was highly anticipated, as he retreated to his corner he shocked the world as he spoke the words, 'no mas', 'no more'.
|
2016
|
1 hr 45 min
|

/

10
Cast

Studio

Director

Jonathan Jakubowicz

Language

English
Hands of Stone News
Weekend Box Office: 'Morgan' Crashes, 'Don't Breathe' Reigns
September 04, 2016 @ 9:05 am PST
|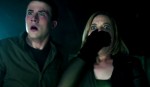 One of this weekend's new releases had one of the worst openings ever, but last week's number-one movie continued its winning ways for the second weekend in a row.
Read More

Can 'Suicide Squad' Make It Four in a Row?
August 25, 2016 @ 6:19 am PST
|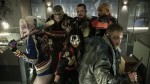 Bad reviews haven't kept Suicide Squad from dominating the box office for three weekends in a row. This week, the comic-book movie tries for a fourth.
Read More

Weekend Box Office: 'Don't Breathe' Wins Final Weekend of Summer
August 28, 2016 @ 10:44 am PST
|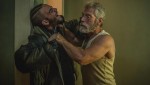 Suicide Squad tried valiantly to stay on top of the box office for an entire month, but this week's low-budget horror newcomer proved much more popular than was expected.
Read More

New Movies August 26: 'Don't Breathe' and 'Mechanic'
August 23, 2016 @ 7:25 am PST
|
There's one more weekend left before Labor Day brings summer to a close, but Hollywood has essentially closed up shop early, with no big-budget cinematic extravaganza's among this week's new releases.
Read More


Watch Hands of Stone Trailer

Hands of Stone Official Trailer #1 (2016) Edgar Ramrez, Robert De Niro Boxing Movie HD|2:43

Watch Hands of Stone Online - Watch online anytime anywhere: Stream, Download, Buy, Rent
Hands of Stone is currently available to watch and stream, download, buy, rent on demand at Netflix, Amazon, Vudu, Google Play, FandangoNow, YouTube VOD, iTunes online.